<![CDATA[

Prepositions in English
Definition
A preposition is a word or set of words that indicates location (in, near, beside, on top of) or some other relationship between a noun or pronoun and other parts of the sentence (about, after, besides, instead of, in accordance with). A preposition isn't a preposition unless it goes with a related noun or pronoun, called the object of the preposition.
Examples: Let's meet before noon. Before is a preposition; noon is its object.
We've never met before.
There is no object; 
before
 is an adverb modifying 
met.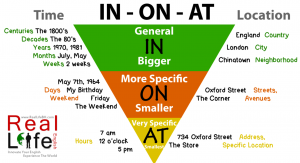 Prepositions: uses
We commonly use prepositions to show a relationship in space or time or a logical relationship between two or more people, places or things. Prepositions are most commonly followed by a noun phrase or pronoun (underlined):
The last time I saw him he was walking down the road.
I'll meet you in the cafe opposite the cinema.
It was difficult to sleep during the flight.
It was the worst storm since the 1980s.
Give that to me.

There are over 100 prepositions in English. The most common single-word prepositions are:
| | | | |
| --- | --- | --- | --- |
| about | beside | near | to |
| above | between | of | towards |
| across | beyond | off | under |
| after | by | on | underneath |
| against | despite | onto | unlike |
| along | down | opposite | until |
| among | during | out | up |
| around | except | outside | upon |
| as | for | over | via |
| at | from | past | with |
| before | in | round | within |
| behind | inside | since | without |
| below | into | than | |
| beneath | like | through | |
Although most prepositions are single words, some pairs and groups of words operate like single prepositions:
They were unable to attend because of the bad weather in Ireland.
Jack'll be playing in the team in place of me.
In addition to getting a large fine, both brothers were put in prison for three months.
I always get nervous when I have to speak in front of an audience.
We estimate that there'll be up to 10,000 people at the concert.
The most common prepositions that consist of groups of words are:
| | | | |
| --- | --- | --- | --- |
| ahead of | except for | instead of | owing to |
| apart from | in addition to | near to | such as |
| as for | in front of | on account of | thanks to |
| as well as | in place of | on top of | up to |
| because of | in spite of | out of | |
| due to | inside of | outside of | |

Prepositions or conjunctions?
Some words which are prepositions also function as conjunctions. When we use a preposition that is followed by a clause, it is functioning as a conjunction; when we use a preposition that is followed by a noun phrase, it stays as a preposition. Among the most common are after, as, before, since, until:
After I'd met him last night, I texted his sister at once. (conjunction)
After the meeting last night, I texted his sister at once. (preposition)
We'll just have to wait until they decide what to do. (conjunction)
Okay, we'll wait here until six o'clock. (preposition)
Prepositions or adverbs?
Several words which are prepositions also belong to the word class of adverbs. These include: about, across, around, before, beyond, in, inside, near, opposite, outside, past, round, through, under, up, within:
There were lots of people waiting for a taxi outside the club. (preposition)
The gallery is opposite the Natural History Museum. (preposition)
A:

Can you tell me where the bus station is?

B:

It's over there, just opposite. (adverb)
Prepositions and abstract meanings
Common prepositions that show relationships of space often have abstract as well as concrete meanings.
| | |
| --- | --- |
| That map you need is behindthe filing cabinet. (basic spatial sense or position) | Everyone is behind the government. (behind = gives support) |
| Beyond the hotel were beautiful mountains. (basic spatial sense or position) | Learning Chinese in a year was beyond them all. (beyond = too difficult for) |
Some common prepositions such as at, in and on can have abstract meanings:
I think you will both need to discuss the problem in private.
All three singers were dressed in black.
You now have the next day at leisure and can do whatever you wish.
Our dog stays on guard all night, even when he's sleeping!
Prepositions and adjectives
We commonly use prepositions after adjectives. Here are the most common adjective + preposition patterns.
| | | |
| --- | --- | --- |
| adjectives | preposition | |
| aware, full | of | They weren't aware of the time. |
| different, separate | from | Is French very different from Spanish? |
| due, similar | to | This picture is similar to the one in our living room. |
| familiar, wrong | with | What's wrong with Isabelle? |
| good, surprised* | at | We were really surprised at the price of food in restaurants on our holiday. |
| interested | in | Lots of people are interested in Grand Prix racing but I'm not. |
| responsible, good | for | Exercise is good for everyone. |
| worried, excited | about | We're really excited about our trip to Argentina. |
*We can also say surprised by
Prepositions and nouns
Many nouns have particular prepositions which normally follow them:
There's been a large increase in the price of petrol.
Does anyone know the cause of the fire?
Prepositions and verbs
Many verbs go together with prepositions to make prepositional verbs. These always have an object:
I just couldn't do without my phone.
Robert accused her of stealing his idea.
Phrasal-prepositional verbs contain a verb, an adverb particle and a preposition (underlined). We cannot separate the particle and the preposition:
The taxi is due any minute. Can you listen out for it?
I can't put up with this noise any longer.
Prepositions: position and stranding
Traditional grammatical rules say that we should not have a preposition at the end of a clause or sentence. However, we sometimes do separate a preposition from the words which follow it (its complement). This is called preposition stranding, and it is common in informal styles:
She was someone to whom he could talk. (formal)
She was someone who he could talk to. (informal)
Which room are they having breakfast in? (informal)
In which room are they having breakfast? (formal)
If we leave out words that are clear from the context (ellipsis), we can use wh-questions with a wh-word + stranded preposition:
A:

The office is moving next year.
A:

I'm going to buy some flowers online.

A:

My mother.

Prepositions

How can we use these little words correctly?

Prepositions are used in many different ways in English – perhaps that's why a lot of people have problems with them.

First, they are used with time words:

on Monday
in the 20th century
at night

Second, they are used to show where something or someone is:

The plate is on the table.
Julie is in the garden.
The picture is on the wall.

Third, they are used after some adjectives:

She is good at tennis.
Scotland is famous for whisky
I'm worried about my new job.

Fourth, they are used after some verbs:

I'm listening to music.
She is waiting for her friend.
He borrows money from his sister.

Fifth, they are used after some nouns:

She has trouble with remembering new vocabulary.

Finally, they are used in certain phrases:

The bus arrived in the end.
She arrived just in time for the film.

Prepositions of Time

In, at, on and no preposition with time words:

Prepositions of time – here's a list of the time words that need 'on', 'in', 'at' and some that don't need any preposition. Be careful – many students of English use 'on' with months (it should be 'in'), or put a preposition before 'next' when we don't need one.

at

times: at 8pm, at midnight, at 6:30
holiday periods: at Christmas, at Easter
at night
at the weekend
at lunchtime, at dinnertime, at breakfast time

on

days: on Monday, on my birthday, on Christmas Day
days + morning / afternoon / evening / night: on Tuesday morning
dates: on the 20th of June

in

years: in 1992, in 2006
months: in December, in June
decades: in the sixties, in the 1790s
centuries: in the 19th century
seasons: in winter, in summer
in the morning, in the afternoon, in the evening

no prep

next week, year, month etc
last night, year etc
this morning, month etc
every day, night, years etc
today, tomorrow, yesterday

Prepositions of Place

Prepositions of place can be difficult – here's some help about using 'at', 'in' and 'on' when you're talking about where things are.

Basics:

If something is contained inside a box or a wide flat area, we use 

'in'

:

| | |
| --- | --- |
| in the newspaper | in a house |
| in a cup | in a drawer |
| in a bottle | in a bag |
| in bed | in a car |
| in London | in England |
| in a book | in a pub |
| in a field | in the sea |
| in my stomach | in a river |

If something is on a line or a horizontal or vertical surface, we use 

'on'

:

| | |
| --- | --- |
| on the table | on the wall |
| on the floor | on the window |
| on my face | on a plate |
| on the page | on the sofa |
| on a chair | on a bag |
| on the river | on a t-shirt |
| on the ceiling | on a bottle |
| on a bike | on his foo |

If something is at a point, (it could be a building) we use 

'at'

:

| | |
| --- | --- |
| at the airport | at the door |
| at the table | at the bus stop |
| at the cinema | at the top |
| at the bottom | at the pub |
| at the traffic lights | at the front |
| at the back | at school |
| at university | at the window |
| at the hospital | at the piano |

Here are some more common ones that don't really fit:

on TV
on the bus
on a train
on a plane
on the radio
at home
at work

Adjectives and Prepositions

Some adjectives need a preposition before their object. There doesn't seem to be a logical rule, I'm afraid! We just need to learn them. Here are some of the most common ones:

famous for France is famous for its food.
proud of He is very proud of his new car.
interested in Julie is very interested in sport.
pleased with John is very pleased with his new suit.
bad at They are very bad at maths.
good at Einstein was very good at physics.
married to My mother has been married to my father for 20 years.
excited about I'm very excited about my holiday.
different from / to Coffee is different from tea.
afraid of I'm afraid of spiders.
]]>